The Lone Star State is no stranger when it comes to unhappy marriages, with a divorce rate going between 10% and 10.5% in the past ten years.
In all likelihood, that number would be lower if legal separation was an option. Texas doesn't officially recognize this route.
As a married couple, particularly with children, you may not want to enter a messy divorce without trying for a legal separation first. That said, stick around to learn more about legal separation in Texas and its alternatives.
Legal Separation in Texas: An Overview
Legal separation happens when a couple wants to live separately but still retain their marriage license. Like several other states, including Georgia and Florida, Texas doesn't officially offer legal separation.
It entails dividing the assets, debts, and properties. The process also focuses on child custody, support, and visitation, depending on the agreement.
In Texas, if you want to get out of a marriage legally, your primary option will likely be a divorce or informal separation.
A divorce is a more actionable option in court since you can legally divide your assets and formally assign child custody. Meanwhile, informal separations won't give you these rights of division.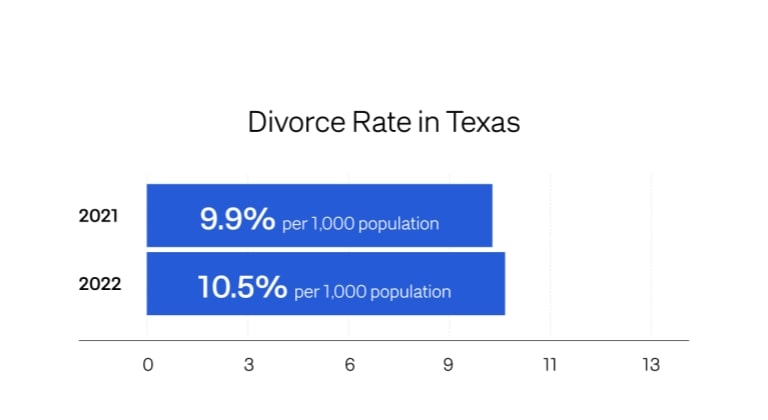 Why Go Through Legal Separation?
Now, you might wonder, "Wouldn't it make sense to go for the divorce if legal separation isn't an option?" Well, for some, that option might not be as clear-cut. Here are a few points to consider.
Health Insurance Coverage
You might be relying on your spouse's employee family healthcare coverage. In this case, terminating the marriage can cut off these crucial finances.
Religious or Cultural Beliefs
Some religions and cultures aren't accepting of divorce. For this reason, a legal separation can alleviate this issue by upholding marital rules but allow you to live separately.
Federal Benefits
Marriage typically offers multiple government benefits, like social security, disability benefits, and filing joint tax returns. Subsequently, a legal separation will retain those advantages.
Testing Separation
I have a friend living outside of Texas who decided to go through legal separation with her husband. During that period, they realized that divorce would be the right call. That trial period of legal separation significantly helped them to make that critical decision.
Child Support
Child support in divorce tends to involve a more complicated process than legal separation. You might witness custody battles and rules that aren't as flexible as in separation.
Alternatives to Legal Separation in Texas
While Texas may not allow legal separation, there are other ways you can go about it. Check out some alternatives below.
Separation Agreement
A separation agreement is likely the closest choice you can get to legal separation. It's a written contract that stipulates you won't live together with your spouse but you'll remain legally married.
While it's not as official as the legal separation, it provides some formality to your situation. The document should include conditions like the duties and rights, like visitation, financial requirements, and property rights.
Both parties must sign the agreement to honor it. This trajectory may lead to a finalized divorce. In other cases, it can pave the way to reconciliation after taking a trial separation. 
Temporary Orders
Temporary orders are often carried out pre-divorce. As the court evaluates your case, the alternative dictates aspects like property and child custody rights.
The scenario usually looks like this: You or your spouse visit the court and ask for temporary orders. The judge will officiate a temporary orders hearing and listen to both parties. According to the hearing's proceedings, the judge will then finalize the orders.
As the name suggests, the substitute is temporary and will only last until the judge gives their final order on the divorce. Plus, the orders can change as the judge sees fit.
My advice in this case is to consult your family law lawyer before listing your orders. They'll give you clear choices for the order, such as temporary child support, provision of health insurance, and visitation.
Protective Orders
A protective order is associated with victims of domestic abuse in the household. It ensures you and your children are protected from your abuser's assault, stalking, and violence.
The order obligates them to stay away from you and the kids and forbids them from carrying a gun, even though they may have a license to carry it.
You'll need to go to court to get the protective order. If you're thinking, "Can I get a protective order right away?" Well, you'll need a Temporary Ex Parte Protective Order from the judge.
It's a signed order by the judge that ensures your temporary protection until the court hearing.
Overall, the protective order can last up to two years but can be extended at the court's discretion.
Suit Affecting Parent-Child Relationship (SAPCR)
During separations, children often bear a large burden over their custody and support. The SAPCR is a legal agreement that can draw official lines for children in an ongoing separation.
I highly recommend going through with this custody case if you want a smoother process regarding the children's place in the separation.
It provides options like gaining conservatorship, access, and possession over a child beyond the confines of a divorce.
In cases of SAPCR, you typically shouldn't need a family law lawyer. Nonetheless, if the points below apply to your situation, I believe you should consider otherwise.
Your case is under contestation.

Your child has a disability.

Your spouse has a lawyer.

You're concerned with your child's safety.
Key Takeaways
Can you get a legal separation in Texas? Unfortunately, you can't. The state has yet to legally provide this option.
Legal separation can be an essential alternative for those with certain cultural or religious beliefs, financial requirements, or child custody challenges.
Besides that, you can look at other choices, such as a temporary order, protective order, separation agreement, or SAPCR case, depending on your situation.