Are you feeling bored and looking for fun things to do? Why not plan an adventure?
An adventure can mean trying out new things or exploring new places, and it's a great way to break out of your routine. Understandably, though, planning for an adventure can be daunting.
The good news is that adventure planning can be a gratifying process, and it's actually a blast when you have some guidance!
On that account, this post will provide a handful of tips for planning the perfect adventure. So, stick around!
Brainstorming Ideas for Your Adventure
Coming up with ideas is a great way to get started with your plan and find the perfect trip that suits your interests and preferences.
Here's how I narrow down my choices:
Local vs. International
First, I always consider whether to take a local or international trip. I give myself ample time to consider it because it's a big decision.
Going out of town and exploring my birth country is always fulfilling. However, there's something about going on an international trip that inspires me.
It all comes down to personal preferences and what you want to experience.
Time Availability
Next, I like to consider how much time I have for my adventure and the length of my travel itinerary.
I usually choose activities that won't affect my other schedules, but I also make sure to plan ahead and request paid time off in advance to increase my chances of approval.
Finding a balance that works for you is key!
Checking Travel Recommendations
Before visiting a new place, I always search for recommendations to make the most of my trip.
I usually turn to Facebook travel groups where avid travelers share their experiences and tips. It's a great way to learn from others and discover new hobbies.
Choosing a Destination
Now that you know whether you're going local or international, it's time to decide on a specific destination. To do so, consider the following factors:
Personal Interest
I ensure the location aligns with my hobbies, desired activities, and interests. These factors help me fully enjoy the experience that matters the most to me.
For example, I love bungee jumping, and I had a blast trying it out at the Macau Tower.
And guess what? I'm also a huge fan of ball games and I'm eagerly planning to see the upcoming Rugby World Cup.
Safety
When it comes to adventure planning, I always prioritize the safety of the destination. After all, I want peace of mind during my tour.
I research and check for potential safety concerns, local laws, and customs. It's all about being informed and taking precautions to ensure a smooth, worry-free adventure!
Budget
Even though I have savings for my trip, I'm mindful of my budget. I assess the overall cost of travel, including itineraries and activities. Budgeting helps me ensure that everything fits within my means.
It's important to me to make sure I stay within my means to avoid overspending.
Accommodation
I explore various accommodation options, such as hotels and vacation rentals to find the perfect place that suits my needs.
One key factor I always look into is how close they are to the attractions and activities I want to experience.
Activities
Last but not least, I also take the time to evaluate the availability of activities and attractions in my chosen destination.
I look for opportunities to embark on outdoor adventures, immerse myself in cultural experiences, or go sightseeing.
Having a wide range of options makes me happy while enjoying my adventure.
Packing Travel Essentials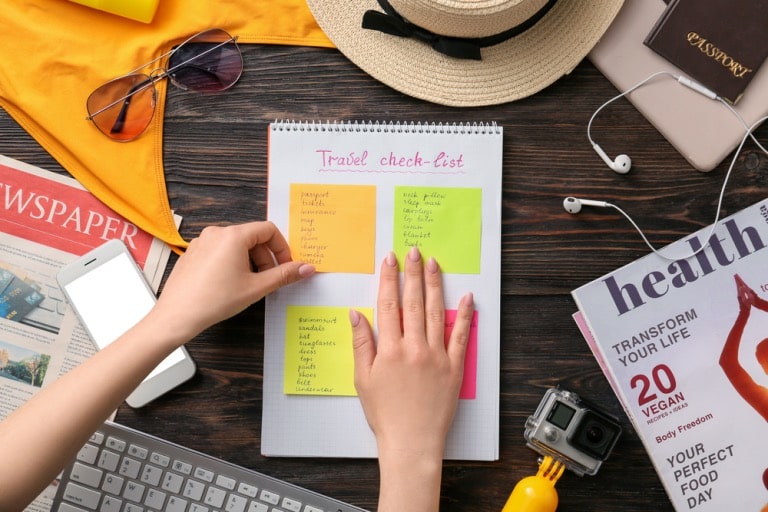 If you want your travels to be hassle-free, it's important to pack your travel essentials wisely. Bringing only the necessary items can help ensure a smooth and enjoyable trip.
Here's a list of travel essentials that I usually take with me:
Valid Passport
Having a valid passport is crucial for international travel.
It's important to ensure that my passport has enough validity remaining for my trip and that it is still valid. I also check the entry requirements and visa regulations of the destination country.
This preparation helps me avoid last-minute issues.
Travel Documents
I keep all my travel papers organized in a travel folder or a digital folder on my phone. These documents include flight tickets, hotel reservations, itinerary, and all the other things related to my trip.
Having all these documents in one place makes it easy to access them whenever needed.
Cash and Cards
During my trip, I bring cash in local currency and credit/debit cards for financial flexibility. I keep enough cash to cover small expenses like meals, especially in places where you can't pay via card. I also inform my bank of my travel plans to avoid issues with card usage abroad.
Phone and Charger
Let's face it. Our phones have become an important part of our lives and our travels. Capturing memories during my trips is my favorite.
So, I always bring my phone along with a charger or power bank to keep it charged on the go.
Water Tumbler
Staying hydrated is crucial during travels, especially in warm climates or during outdoor activities. I bring my own tumbler that I can easily refill throughout my trip to ensure access to clean drinking water.
Clothing
I pack versatile and weather-appropriate clothing that's comfortable for long sightseeing days. They include jeans, t-shirts, leggings, and comfortable walking shoes.
I also pack appropriate clothing for specific activities or cultural norms of my destination, such as t-shirts, jeans, and shorts.
Toiletries
I pack travel-sized toiletries like toothpaste, shampoo, conditioner, body wash, and facial cleanser. I also comply with airline regulations for liquids, gels, and aerosols in my carry-on bag.
Additionally, I bring a small towel or washcloth for convenience, as not all accommodations may provide them.
Medications
When I travel, I always carry any necessary prescription medications. I have to prioritize my health and well-being, so I never forget to bring my medications. Some of them include nebulizers and paracetamol.
Also, I've got some first aid kits with supplies like bandages, antiseptic wipes, and pain relievers. It also includes other over-the-counter medications that I may need during my travels.
Making the Most of Your Adventure
Having the best adventure is all about trying out new things and capturing memories of your trip. While you're on your trip, being open-minded and willing to experiment is crucial. Things might not always go according to your plan.
Yet, being able to adjust and make the most of the situation can lead to exciting and unexpected adventures. Don't forget to snap lots of photos to cherish your memories forever.
The Bottomline
Adventures can be an incredibly rewarding and fulfilling way to travel. Adapting to new environments and navigating unfamiliar places can build self-confidence and resilience.
Immersing yourself in different cultures, meeting people from diverse backgrounds, and experiencing local customs and traditions can broaden your horizons. It'll also deepen your understanding of the world.