Greetings and other pleasantries have always played a big role in society—mainly in providing a polite and hospitable mood. It also sets the tone of an event about to ensue.
While most greetings are for the start of interactions, there's one that closes out conversations in such a graceful and wholesome manner that it's been a top choice in first-time formal situations: "It was a pleasure meeting you."
This guide should walk you through the different situations and alternative deliveries of this greeting.
Why Do We Say 'It Was a Pleasure Meeting You'?
Before we explain how to use the greeting, we must know what it means and why it's a great default choice for closing first encounters.
Saying "it was a pleasure meeting you" not only conveys happiness in being acquainted with the greeting's receiver, but also a favorable description of your experience with them—that it was a privilege, and you'd always be happy to interact again if the chance arises.
With how pleasing it was to say and to hear, the expression itself—along with many other of its alterations—has become of routine use in business and formal social settings.
What are the Other Ways to Say It, and When?
There are several other versions of this greeting known in the English language. But, just like how using the correct tool needed for a job will give best results, so do greetings with people and situations.
Here are the different ways to say "it was a pleasure meeting you" varying from most to least formal, along with some example usage scenarios.
1. It Was a Pleasure to Make Your Acquaintance
First up is probably one with the most formal tone.
You'll find this line most commonly used in final exchanges between business representatives (either face-to-face or in online meetings/email threads) as an alternative or in addition to sending off with best regards.
2. It Was a Pleasure Conducting Business With You
Given the word usage and the tone, it's only meant to be said after a positive transaction between two business parties.
Despite its formality, the intent is to make each side feel that everything between them went as well as expected. Moreover, it expresses the wish to have more work done together.
3. Pleased to Meet You
This version is more commonly used as a formal opening statement but is still appropriate for any first-time interactions. With that in mind, it's often a fine accompaniment to introductory handshakes or bows.
4. It Was a Pleasure to Meet You Today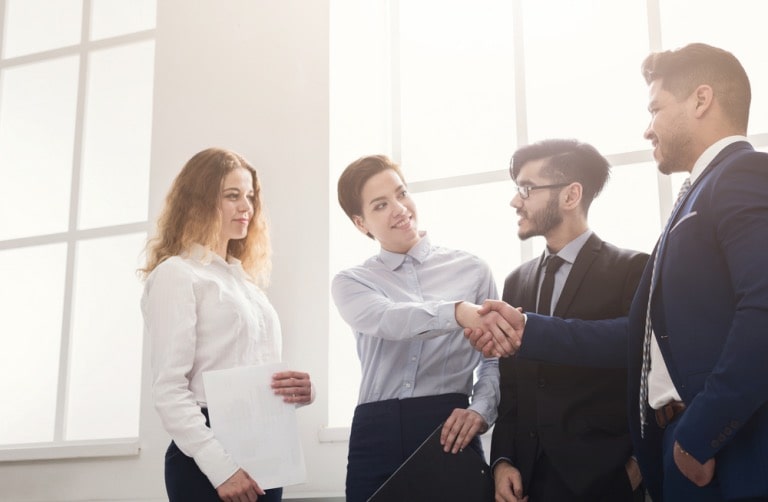 The same formal greeting, with a single-word addition specifying the current period.
This results in an expression that not only conveys your happiness in seeing the receivers but also your gratitude for their time and effort in meeting you.
That said, this greeting is perfect for visitors who most likely went out of their way, to travel and spend time in your presence.
5. It Was a Pleasure Meeting With You Yesterday
While the last example greets the receiver in the present tense, this one conveys the same emotions but in the past tense. It shows gratitude during your time with them before this message.
It's a very polite line in case you forgot to say something similar the day before (can be personal or through calls/texts/emails) and there is a need to reintroduce yourself. Instead of 'yesterday', you may also use other past period adverbs like 'last week/month/year', depending on when your last interaction was.
6. It Was a Pleasure to Meet You All
A variation specifically made for speaking to a group of important people. It's an expected line within company-wide meetings and inter-company events. It is also used in speeches for other formal-themed celebrations.
7. It Was a Pleasure Meeting You and Your Team
This is similar to the previous greeting where the speaker addresses multiple people, but this time, it's directed toward a representative of an important group.
It's even more effective as an acknowledgment if the members are within the venue.
If you're expected to deliver this line, the kind of person to say this to would most likely be along the lines of a department head, a sports team coach/owner, or an organization leader.
8. It Was a Pleasure Meeting You In Person
This is another niche version to tell a person you've been acquainted with but only through virtual means. You may have met through texts, over the phone, via email, comments on social media platforms, or other online interactive activities like video games.
Initially, it would express your happiness that you've finally seen them face-to-face. However, it will also imply that you've always thought of them highly, and your meetup just solidified it further.
9. It Was a Great Pleasure to Meet You
If you thought the original line should do good in making your receiver feel appreciated, then this simple one-word-added version elevates it. This greeting should do nicely when facing your event VIPs.
10. It Was a Pleasure Meeting You As Well
This should be noticeably different from all the previous alterations we discussed. This line is meant to be a response to a greeting similar to its original form.
However, its use is most appropriate in a more informal setting. Any social interaction that didn't necessarily conduct business can make use of it.
So, What Have We Learned?
"It was a pleasure meeting you"—a neat one-liner that can have numerous other versions based on who you're speaking with, when, and where. Knowing the best form to use in each situation can pave the way for great opportunities.
It might look overwhelming at first, but with practice, one can eventually sound confident, professional, and capable—be it in detailed business meetings, grandiose social gatherings, or everyday interaction.