Back in the day, everyone wanted to be a YouTube celebrity. Hundreds of thousands watch your videos, and you get to make money from home—which wasn't really a popular thing back in the day!
So, we ended up with many YouTube stars still shining today, including Emma Chamberlain. She was around 16 when she started youtube, and it took her years to reach where she is now.
This left many wondering, how much is Emma Chamberlain's net worth? Also, what's her real story? Well, that's what I'm going to share with you today; let's start!
Emma Chamberlain's Personal Life
View this post on Instagram
Emma was born on the 22nd of May 2001 in San Bruno, California. Her father is an artist called Michael John Chamberlain, and her mother, Sophia Pinetree, was a flight coordinator.
As a young kid, she had a regular life full of ups and downs as the only child to a divorced couple—they broke up when she was five. 
Sadly, Chamberlain shared that while she grew up in San Francisco, her family usually struggled financially. 
This is because they mainly depended on her dad's commission as an artist, so when he fell ill or had no orders for his work, times were rather tough on them. Thankfully, this didn't dampen Chamberlain's spunky personality!
She attended Central Middle School in San Carlos, California, and Notre Dame all-girls Catholic High School in Belmont. She used to be a bubbly cheerleader and was very active and competitive during her school days.
Yet, after the slightest hint that her YouTube channel might take off, Emma promptly left school during the first semester of her junior year. She later took the California High School Exit Exam and graduated.
Emma Chamberlain's YouTube Career
Once Emma quit high school, she put all her focus on the YouTube Channel. She had no followers in her beginnings, and her number one subscriber was her dad! Yet, she didn't give up and continued creating content.
One day, she made a video titled " We All Owe The Dollar Store An Apology," which went viral instantly! 
People usually credit this video's success to how relatable Emma was to teenagers at the time. Plus, her editing skills with the on-screen texts, pauses, and zooms were impressive then. 
As she continued building her YouTube career, her videos focused mainly on fashion hauls, car vlogs, cooking videos, and general vlogging.
When 2018 rolled around, Emma joined the Sister Squad with fellow YouTubers James Charles and The Dolan Twins. They collaborated on videos and created content together. However, the squad didn't last long, and they disbanded for unknown reasons around 2019.
This wasn't the only time Emma brushed shoulders with other famous creators. She also joined Ellie Thumann, Tana Mongeau, and a couple of other female creators in videos.
Emma Chamberlain's Business Ventures and Endorsements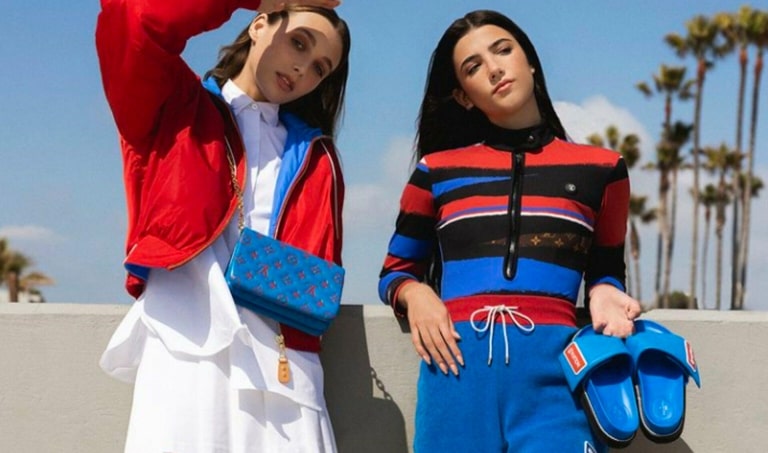 Following Emma's success on YouTube, many famous brands wanted to sign her, including the shopping app Dote. 
This was her first big business venture, and it was a success! They sponsored Emma throughout 2018 and sent her all over the globe to shoot her videos and promote their app.
The company also helped her design and release a clothing line named Low Key/High Key by Emma. Unfortunately, though, Emma had to cut ties with the company as they were associated with various controversies, which could've damaged Emma's reputation.
Luckily for Ms. Chamberlain, this didn't hurt her popularity much, and soon after, she was signed with the eyewear brand Crap Eyewear. She appeared in multiple videos for the brand and has a hand in designing some of the products.
Fast forward a few years, Emma's popularity has reached an all-time high that YouTube itself couldn't contain her! 
In 2020, Chamberlain appeared in an official Louis Vuitton Cruise commercial, and soon after, she signed with other big names like Lancôme and Cartier.
Finally, Emma got asked by none other than Vogue to be their correspondent at the Met Gala! Since 2021 Emma has been asking stars on the red carpet all kinds of exciting questions and leaving the fans with funny videos that are sure to make you chuckle.
Emma Chamberlain's Net Worth and Earnings
As of 2023, Emma Chamberlain's net worth is estimated at $12–$15 million, but that's not what's impressive. While the number is undoubtedly remarkable, what's amazing is how she managed to earn it. 
Besides her YouTube career, Emma also ventured into the business world on her own! For starters, she had her podcast titled "Anything Goes," which earns her a decent amount of money.
Plus, as we mentioned above, she maintains a healthy balance between her brand endorsements, so she doesn't rely on just one income source. 
Emma also started a coffee business and called it "Chamberlain Coffee," which is now a popular name in the Gen Z market. Moreover, as a fashion icon, it only makes sense that Emma has her own merchandise.
She sells various types of products, including posters, stickers, T-shirts, sweatpants, and so much more. 
Finally, one of Emma's main income sources is her Instagram account. This young icon has over eight million followers with an engagement rate ranging from 6%–8%. 
This means if only 6% engaged with her posts, it would mean almost half a million are seeing and interacting with her content, guaranteeing her a steady income stream.
Quick Recap
So, are you still wondering what Emma Chamberlain's net worth is? I sure hope not!
To give the TL;DR, Emma's fortune is around $12–$15 million. She started her career as a YouTuber, quickly rose to fame, and branched out into other ventures.
Emma collaborated with various famous content creators, including James Charles and The Dolan Twins. Outside her YouTuber career, Emma has a podcast, a coffee business, a successful Instagram account, and various deals with big brand names.
This is why Emma's net worth is remarkably high for such a young lady. She has an impressive empire that she built all on her own!