Are you tired of listening to the same five songs every day? I know the struggle. Finding new music that matches your taste isn't always as easy as you'd like it to be.
That's why "Favorite Music Guru" is a fantastic solution; I fell in love with it as soon as I stumbled upon it.
This third-party platform raids your Spotify music to tailor playlists that are specially designed for your preferences. Without further ado, let's look at how it works and why you should give it a try.
How Does Favorite Music Guru Work?
Image source: Google
Once you give Favorite Music Guru access to your Spotify, it starts scouring your music data, including your listening history, followed artist pages, saved playlists, and liked tracks.
Using a crafty algorithm, the platform then curates playlists. These include the music you most listen to, your top artists, and most favorite tracks.
However, the visuals aren't the prettiest and are text-heavy, but the result makes up for the lack of aesthetic.
Not to mention, it's still fun to share your personal playlists on various social media platforms. It's a good way to connect with others that may enjoy the same music. In a sense, it encourages others to reach out and exchange tracks and suggestions.
The cool thing about Favorite Music Guru is that it breaks down your top artists into long-term, medium-term, and short-term categories, which display the last few years, last six months, and last four weeks, respectively.
While visual learners may not be the biggest fans of the output, it's still an excellent way to make new playlists with the songs on the list. Moreover, it's an excellent way to find inspiration from your favorite artists and the songs that you might have missed from them.
How Can I Begin Using Favorite Music Guru?
Activating the service is pretty smooth; all you have to do is follow the following steps:
Go to the Favorite Music Guru website

Log into your Spotify account

Click on the "Top Artists and Tracks" tab

Choose the period you want to view your top tracks and artists

Check out the results and filter them to further refine your results

Once you get there, you can start playing your music as well as save it to your library
Is Favorite Music Guru Safe to Use?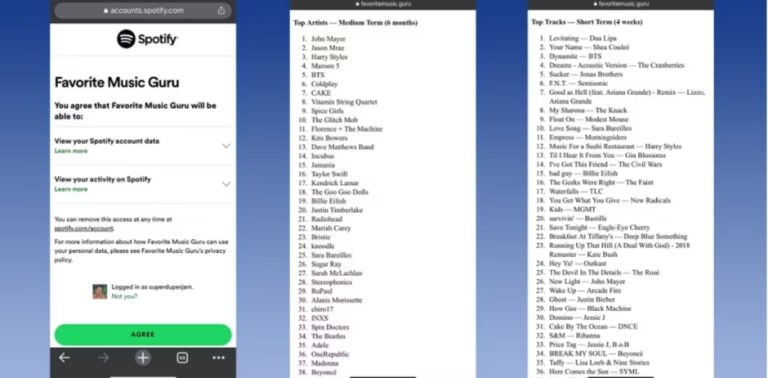 One of the biggest concerns anyone might have when using a third-party platform is whether or not their data and privacy are safe.
Since Favorite Music Guru uses Spotify's API to access your Spotify data, there's no doubt that it's secure.
Spotify gives Favorite Music Guru access to its operating system application or other services. Once the third party has this access, it gets a set of functions that allows it to create its application.
With all the technological jargon and details aside, as a user, you shouldn't feel threatened by the third-party platform since it only has access to the data that allows it to do its job not information that has to do with your personal data.
It's advisable, however, to log out of the platform after you've curated the playlists to lock your data in the future. It isn't a necessity, yet it's a cautious measure for those of you—like me—who worry about data leaks and possible breaches.
Again, this is because it's a third-party service and not a feature that Spotify officially offers itself.
Is Favorite Music Guru Better Than Receiptify?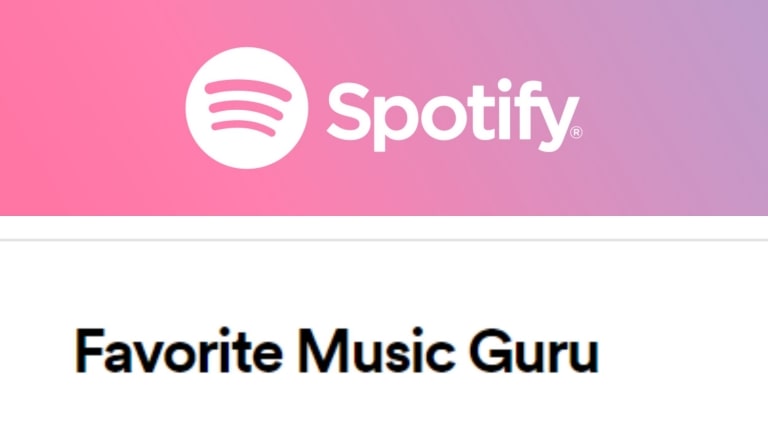 The two platforms, Favorite Music Guru and Receiptify are similar when it comes to curating your favorite tracks and artists into playlists.
You can divide both into specific periods: weeks, months, years, or all time. However, I found that Favorite Music Guru is more accurate, and the music inspiration there was more fitting to the typical preferences.
Yet, it's undeniable that the receipt-like form that Receiptify offers as output is more visually appealing and fun.
Final Thoughts
Favorite Music Guru is a creative and handy option for supplying Spotify users with lists of their favorite tracks and artists.
It's an exciting way to add a layer to your Spotify experience with its comprehensive lists and the personalization it has to offer.
So, what are you waiting for? Give Favorite Music Guru a try and check out what your potential playlists look like.
---