Many people refer to all personal watercraft as jet skis. Yet, it might surprise you to learn that this is just a brand name. While Jet Skis might be the most widely known watercraft out there, there are still other perfect options, such as WaveRunner.
So, what's the difference between Jet Ski vs. WaveRunner?
The most notable distinction between a Jet Ski and a WaveRunner is the driving style. Most Jet Skis are stand-up, but WaveRunners are always sit-down models.
Do you want to find out more? In this article, we've compared Jet Ski vs. WaveRunner and highlighted their best features. Let's dive in!
What Is Jet Ski?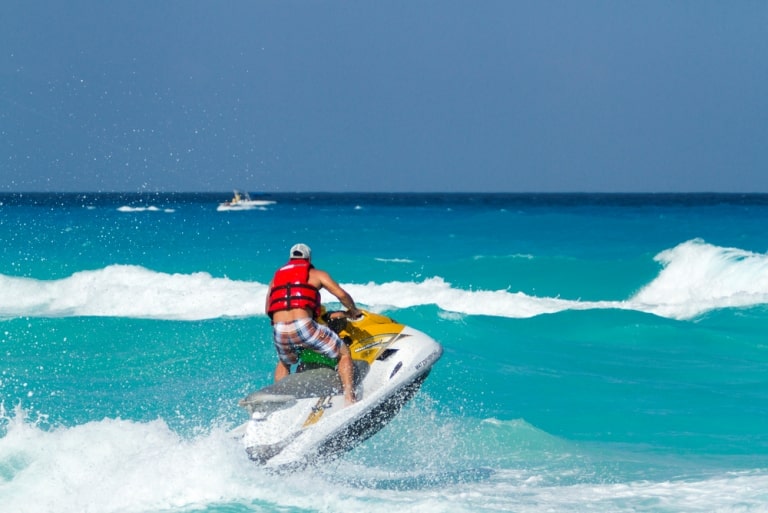 Jet Ski is a type of watercraft manufactured by Kawasaki Motors. The Kawasaki Jet Ski was the first popular personal watercraft (PWC) in the United States.
There's a reason why Jet Ski is synonymous with recreational PWCs. It was the only popular watercraft for 16 years after its introduction in 1972.
In fact, Jet Ski popularized jet sports. That's because it inspired the creation of the United States Jet Sports Boating Association, which was first called the United States Jet Ski Association.
Now, there are numerous other PWC brands on the market. Nevertheless, Jet Ski remains one of the top water vehicles, due to its superb quality and trustworthy name.
What Is WaveRunner?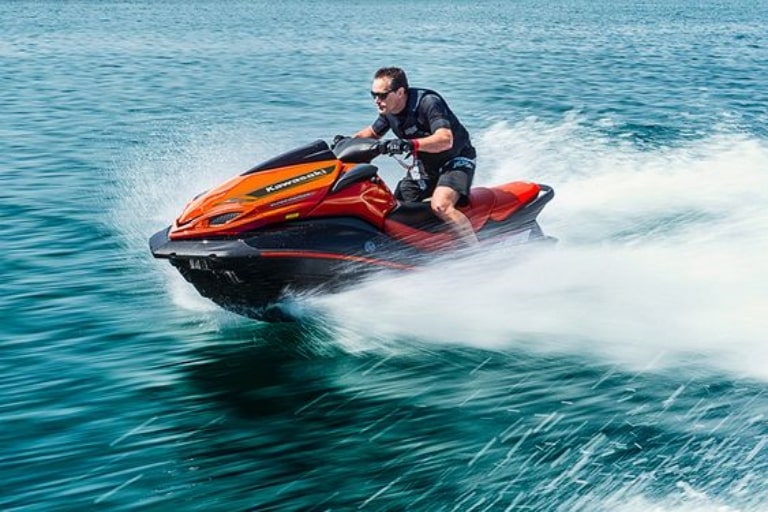 Yamaha joined the PWC industry in the 1980s by introducing WaveRunner. Though Jet Ski was dominating the market, WaveRunner was a strong contender.
WaveRunner was the first PWC to carry more than one person. Additionally, Jet Skis at the time were only stand-up. WaveRunner completely revolutionized the market with its sit-down model.
While Jet Ski was the primary PWC for sporting purposes, WaveRunner was the leading model for leisure.
Still, Yamaha has many PWCs to suit all your requirements. The Japanese motor company also has a stand-up model, the SuperJet, which is built for speed.
Jet Ski vs. WaveRunner: Differences
Jet Ski and WaveRunner are both leading PWCs for good reason. This doesn't mean they're identical, though. Instead, each vehicle is perfect for certain purposes.
Here are all the distinctions between Kawasaki Jet Ski and Yamaha WaveRunner:
Riding Position
At first, Jet Ski only had stand-up models, while WaveRunner had seats. For this reason, most people refer to stand-up PWCs as Jet Skis, and sit-down models as WaveRunners.
Currently, Jet Ski offers both types of PWCs. However, due to the riding style of the PWC, most riders prefer to stand up, even if the Jet Ski has seats.
WaveRunner only has sit-down models. This is only natural since the design is suitable for recreation instead of thrills.
Performance
Though there are many sporting PWCs out there, Jet Ski is what you need when it comes to speed. Newer Jet Ski models can reach up to 70 miles per hour.
Jet Skis are for adventurous riders who want to perform stunts and improve their skills. On the other hand, you can't expect a jet race with a WaveRunner.
The Yamaha PWC is available in recreational and rec-lite models. So, it's best for cruising with the family. Its speed ranges from 50 to 55 miles per hour.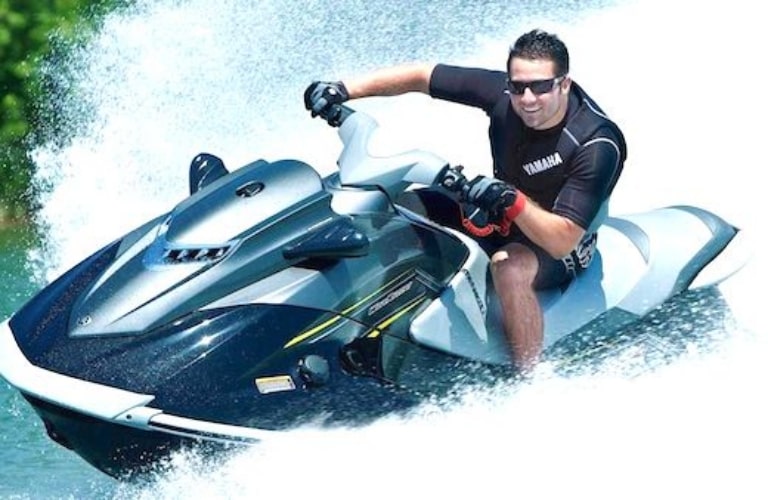 Storage
All PWCs include some sort of storage space, except stand-up models. This means you can't expect any storage with a Jet Ski. The PWC is light and compact, so it can have maximum speed with no resistance.
Still, some Kawasaki Jet Ski models are sit-down, including plenty of bow storage space.
In contrast, WaveRunner has plenty of storage space for your life jacket, water equipment, and extra fuel. Most models feature an under-seat, bow, glove box, and stern storage.
Ease of Use
Anyone can ride a PWC with proper training and safety guidelines. That said, a stand-up Jet Ski is much harder to master than a sit-down model.
That's not all. Jet Skis are generally faster than WaveRunners, as they're made with adventurous riders in mind. For that reason, beginners might have a difficult time learning to ride a Jet Ski.
WaveRunners are ideal for amateurs or people trying jet sports for the first time. The best part is that most WaveRunners seat more than one person. So, you can have an instructor ride along during your first time. You might not even have to drive the PWC yourself!
Price
Naturally, a PWC isn't a cheap purchase. Furthermore, when buying Kawasaki and Yamaha products, you'll be sure you're getting the best quality for your buck. Nevertheless, each PWC has a different price tag.
There are numerous Jet Ski models that vary in price. Accordingly, you'll be able to find one that suits your needs and budget. Nevertheless, since Kawasaki doesn't specialize in recreational Jet Skis, most Jet Ski models tend to be on the expensive side.
In contrast, WaveRunner is primarily for leisure use. So, the price tag matches its function, being much easier on the pocket than a Jet Ski.
Jet Ski vs. WaveRunner: Similarities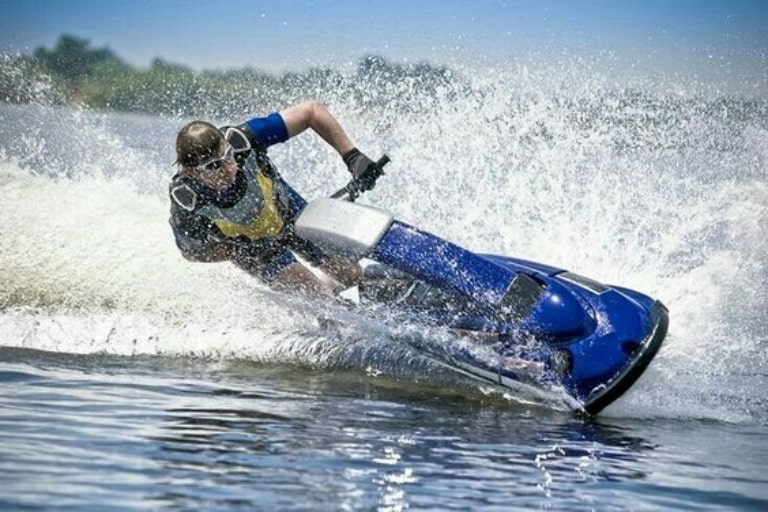 Jet Skis might be for action-packed activities, while WaveRunners are reserved for gentle cruising. However, both Jet Ski and WaveRunner are great quality vehicles.
The main similarity between these PWCs might be the fun you'll have. Yet, they also include stable design features that you'll find in most high-end PWCs.
Here are all the similarities between Jet Ski and WaveRunner:
Durability
Kawasaki and Yamaha are incredibly trustworthy. Their products include the best parts, completely manufactured and assembled in Japan.
This means you should expect your PWC to last a lifetime, whether you go with a Jet Ski or a WaveRunner.
Most PWCs last around 300 hours. So, if you use your Jet Ski for 30 hours a year, it should last for over ten years.
You must keep in mind that this lifespan is only possible if you take good care of your vehicle. While PWCs don't require as much maintenance as cars, you still need to service it at least once a year and take precautionary measures when storing it over winter.
Safety
There's definitely a degree of risk with all water sports. That said, both PWCs are safe if you know how to operate them properly.
Many people consider WaveRunners to be the safer PWC option. The reason is that they're bulkier and thus less fast. Moreover, the sit-down design keeps the rider secure.
It might also take you more time to master riding a Jet Ski. Lastly, WaveRunners riders aren't able to perform risky, thrilling stunts. Yet, this has nothing to do with the vehicle itself and more with the rider's knowledge and behavior.
Simply put, if you follow safety guidelines and ride under the supervision of an instructor, you'll be perfectly safe with either PWC.
Which PWC Is Right for You?
Now that you know all the differences and similarities between Jet Skis and WaveRunners, it's still tricky to discern which PWC would be the ideal match for you. After all, it isn't a small purchase!
This decision depends on your lifestyle and the purpose of the PWC. If you're a water sports lover, it goes without saying that a Jet Ski is the best for you. Alternatively, WaveRunners are great for a casual time in the water.
Why You Should Get a Jet Ski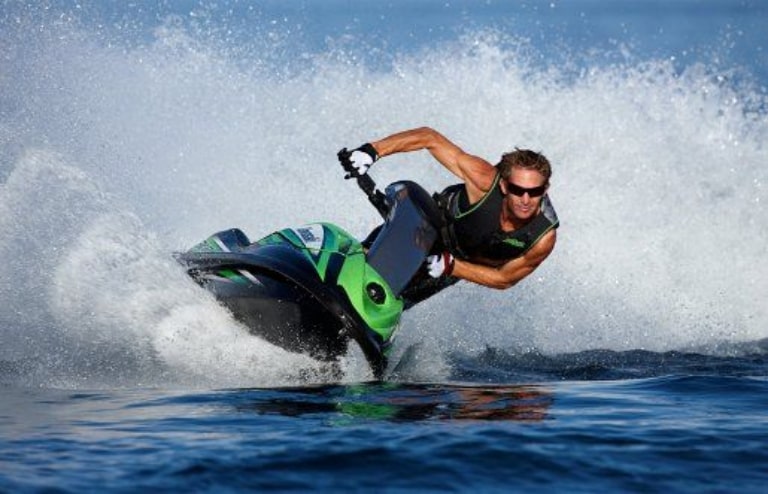 Deciding to buy a Jet Ski rather than other PWCs is the easiest part of your purchase. Afterward, you'll have to choose between various models and sizes.
What's more is that this vehicle isn't just for adrenaline junkies. You can pick between a stand-up and a sit-down model, based on your needs.
Simply put, Kawasaki Jet Ski is the ideal PWC. Though it might be a tad expensive, you know you're getting the best performance and quality.
Why You Should Get a WaveRunner
WaveRunner is the obvious choice if you're not into complicated stunts or high-speed water sports. There's no doubt that you'll get plenty of use out of your WaveRunner as it's suitable for all family members.
With WaveRunner, you have a lot of seating options, so there's room for all your family and friends. You can get up to four seats with the Yamaha WaveRunner SUV.
Finally, you don't need to break the bank to enjoy water activities, as WaveRunner is relatively affordable compared to other PWCs.
To Conclude
Deciding between a Jet Ski vs. a WaveRunner is tough. Both are excellent vehicles that are durable and safe to operate. However, numerous key distinctions set them apart.
For example, Jet Ski is perfect for adventure lovers who want to perform stunts, as it's lightweight and fast. This means it might be tricky to operate, particularly for beginners.
WaveRunner is the family PWC. It's great for recreational use, has room for multiple riders, and includes plenty of storage space. Since WaveRunner isn't for water sports purposes, it's also significantly cheaper than Jet Ski.