A fiberglass above-ground pool is a type of swimming pool constructed using fiberglass as the primary material and installed on or above the ground. Fiberglass pools are pre-fabricated and come in a single piece or a few large sections.
The first fiberglass pool was produced in the late 1950s, primarily targeting the residential market. Fiberglass pools gained popularity in the 1970s and 1980s as manufacturers refined the manufacturing process and introduced various designs and sizes.
Technological advancements in the 1990s and early 2000s made fiberglass pools suitable for commercial applications such as hotels, resorts, and public swimming facilities. Fiberglass pools have been adopted for above-ground installations in recent years.
Above-ground pools are generally more affordable and easier to install than in-ground pools because they require less excavation and construction work. They're also portable, making changing locations easier. The raised height of the pool can offer increased safety, which is ideal for households with children or pets. Lastly, above-ground pools often have simpler filtration and maintenance systems.
Advantages of Fiberglass Above-ground Pools
Investing in a fiberglass above-ground pool means embracing durability, easy maintenance, customization, and energy efficiency.
A. Durability and Long-lasting
Fiberglass is a resilient material highly resistant to cracks, dents, and other structural damage. The fiberglass construction of the pool provides excellent tensile strength, allowing it to withstand the pressure exerted by the water. Fiberglass is also highly resistant to chemical corrosion caused by chlorine and other sanitizers, reducing the risk of deterioration.
B. Easy Maintenance
The smooth surface resists algae growth and other forms of staining, minimizing the need for extensive cleaning. Moreover, the non-porous nature of fiberglass prevents water penetration, avoiding issues such as seepage or rot.
Additionally, the lack of a liner eliminates the need for liner replacements, as is common with liner vinyl pools.
C. Customizable Designs
Fiberglass above-ground pools are available in various shapes, sizes, and depths. You can choose a rectangular or a free-form pool with a uniform depth or a deeper end for diving and other water activities.
They can also be customized with built-in features such as benches, tanning ledges, and waterfalls. Furthermore, they often come with a gel coat finish, allowing for the pool's color customization.
D. Energy Efficient
The fiberglass is an insulator, helping to retain heat in the pool water. Once you heat the pool, it'll require less energy to maintain the desired temperature compared to pools made of other materials, such as concrete or vinyl.
The non-porous surface of fiberglass pools reduces the need for excessive chemical treatments by inhibiting algae and bacteria growth. Moreover, the smooth surface decreases friction as water moves through the pool. These characteristics reduce the energy required to run the pool's circulation and filtration systems.
Installation process 
The installation process varies depending on the fiberglass pool's manufacturer and model. But, here's a general overview from a DIY perspective.
A. Site Preparation
Choose a suitable location for the pool and ensure it's stable and can support the weight of the pool. Clear the area of any vegetation, rocks, roots, and sharp objects. Then mark the area according to the pool's dimensions.
B. Pool Placement and Leveling
To ensure a solid foundation for your fiberglass above-ground pool, proper ground leveling is crucial.
Leveling the Ground: Ensure the ground is level. If not, you might need to excavate or add soil to achieve a level surface. Use a laser level, transit, or other leveling tools when leveling.
Compacting the Soil: Compact the soil using a compactor to ensure a stable base, preventing settling or shifting of the pool after installation. Continuously check the levelness of the ground as you compact and adjust the soil.
Base Preparation: Some fiberglass above-ground pools might require a base material, like gravel or sand, to provide a cushioning effect and even weight distribution. Follow the manufacturer's instructions for the recommended base material and thickness.
Pool Assembly: Begin assembling the fiberglass above-ground pool according to the manufacturer's instructions. This typically involves connecting and securing the pool's walls or panels.
C. Plumbing and Electrical Installation
Plumbing and electrical installation are important components of setting up a fiberglass above-ground pool. Follow the manufacturer's instructions for clarifications.
Plumbing Installation
A properly functioning filtration system is essential for maintaining clean and clear water in your pool.
Filtration System: Install the pool's filtration system, including the pump, filter, and associated plumbing connections.
Plumbing Connections: Connect the plumbing lines to the filtration system. This typically involves hoses or pipes to the pump's inlet and outlet ports and connecting them to the correct locations of the pool's plumbing system.
Skimmer and Return Fittings: Install the skimmer and return fittings in the pool wall. These fittings allow the water to be drawn into the filtration system and returned.
Valves: Install any needed valves, connectors, or other plumbing accessories. These may be used to control water flow or facilitate pool maintenance.
Electrical Installation
Follow these steps to establish a secure and efficient electrical system for your pool.
Power Source: Determine a power source near the pool area. This can be an existing electrical outlet or a dedicated electrical line from the main panel to the pool area.
GFCI Outlet: Install a Ground Fault Circuit Interrupter (GFCI) outlet for safety because it protects against electrical shocks.
Electrical Wiring: Run electrical wiring from the power source to the pool area. This may involve using conduit underground-rated electrical cable.
Connect Equipment: Wire the pool equipment, such as the pump, and any additional electrical accessories to the electrical source.
Grounding: Ensure all the pool's electrical components are properly grounded according to local safety guidelines.
D. Finishing Touches
After the pool is installed, fill it with water, and then test and balance the water chemistry using appropriate pool chemicals to ensure safe swimming conditions. Then start testing the pool equipment, including the filtration system and pump.
You can install pool decking around the pool's perimeter to provide a finished edge and facilitate easy entry and exit from the pool. You can also install pool lighting, fences, alarms, and accessories like diving boards and waterfalls.
Cost Considerations
By exploring the cost considerations and long-term savings of fiberglass above-ground pools, you can make an informed decision about the overall cost of owning a fiberglass above-ground pool.
A. Comparison of Other Types of Above-ground Pools
The cost ranges provided are approximate figures based on general industry trends and observations.
| | |
| --- | --- |
| Above-ground Pool Type | Cost Range |
| Fiberglass Pool | $15,000 – $30,000+ |
| Steel or Aluminum Pool | $2,000 – $8,000+ |
| Resin Pool | $4,000 – $10,000+ |
| Hybrid Pool | $3,000 – 15,000+ |
B. Long-Term Cost Savings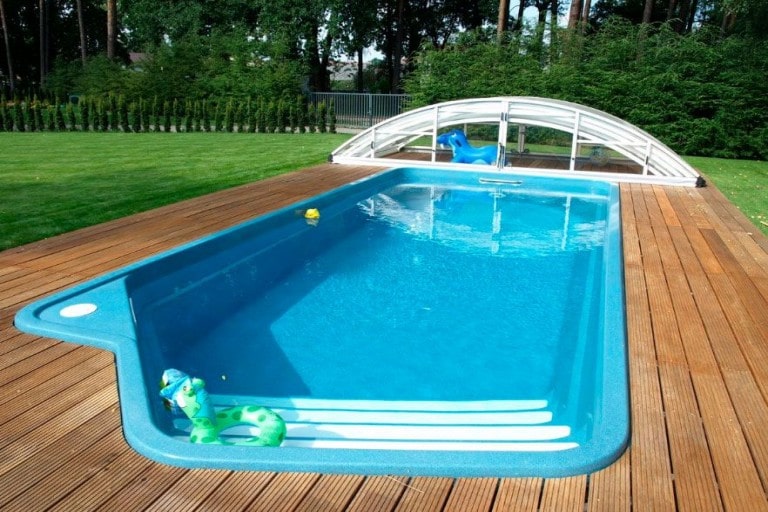 When considering the long-term cost savings associated with owning a fiberglass above-ground pool, several factors come into play.
Lower Maintenance Costs: The smooth, non-porous surface of fiberglass is resistant to algae and staining. This decreases the need for frequent cleaning and chemical treatments, resulting in lower maintenance costs than other pool types.
Durability: Fiberglass pools are less prone to damage, such as cracks or leaks, minimizing the need for significant repairs or replacements.
Energy Efficiency: Fiberglass pools often have insulation properties, which can help retain heat. This contributes to energy savings by reducing the heat required to maintain the desired water temperature.
C. Additional Costs to Consider
Evaluating the additional costs and the fiberglass pool's initial purchase price is essential.
Site Preparation and Excavation: These costs include clearing the area, leveling the ground, and more to ensure a suitable base for the pool. Excavation costs can vary depending on soil conditions, pool size, etc.
Delivery and Installation: Delivering the fiberglass pool to your location is another consideration. If you prefer to hire professionals for installation, labor costs will be incurred. If you opt for a DIY installation, you should factor in equipment rentals and additional tools.
Plumbing and Electrical Work: Connecting the fiberglass pool to the plumbing and electrical systems require professional services unless you DIY it.
Accessories: Lighting and heating systems, ladders, pool covers, and water features can enhance the functionality and aesthetics of the pool—but require additional costs.
Permits: Local regulations may necessitate permits and inspections, which may involve associated costs.
Maintenance: Though fiberglass pools generally need less maintenance, there'll still be costs for regular cleaning and potential repairs.
Maintenance Tips
Maintaining your fiberglass above-ground pool properly is essential for cleanliness, optimal performance, and longevity.
A. Cleaning and Chemical Balancing
Skim the pool's surface regularly to eliminate leaves and other floating particles using a skimmer net.
Brush the pool's walls and steps to prevent the buildup of contaminants and algae.
Vacuum the pool floor and walls to remove dirt, sand, or sediment that may have settled.
Test the water regularly using a pool water testing kit to ensure proper chemical balance.
Maintain pH between 7.4 and 7.6 to prevent corrosion and promote bather comfort.
Shock the pool occasionally to eliminate accumulated contaminants and restore water clarity.
B. Winterization
Decrease the water level in the pool to a level recommended by the manufacturer to prevent potential damage caused by freezing water expanding in the plumbing lines.
Drain plumbing lines to prevent freezing and potential damage. You can use compressed air or a specific pool antifreeze product.
Remove any accessories and equipment from the pool, such as ladders, skimmer baskets, and automatic pool cleaners.
Install a winter pool cover to protect it from snow, ice, and debris during winter. Ensure the cover is securely fastened to prevent it from sagging into the water.
C. Regular Inspection and Repairs
Conducting routine inspections and promptly addressing any issues can prevent minor problems from developing into significant concerns. If any damage is detected during inspections, promptly address them via DIY or a professional pool repair company.
Inspect the pool's surface regularly for leaks, loose tiles, and other signs of damage.
Examine safety features such as pool fences, gates, and handrails to ensure they're secure and intact.
Inspect the plumbing connections and pipes for any leaks or loose fittings.
Check the pool equipment, such as pumps, filters, heaters, and valves, for signs of damage, leaks, or unusual noises.
Conclusion
Fiberglass above-ground pools offer several advantages, making them a popular choice for homeowners.
Their durability makes them resistant to cracks, dents, and chemical corrosion. They require minimal maintenance because their smooth surface resists water penetration and algae growth.
If you're considering installing a pool in your backyard, I highly recommend exploring the fiberglass above-ground pool option because of the advantages discussed in this article.
Although DIY is possible, hiring a professional for a seamless and hassle-free experience. A professional installer will ensure proper pool placement, level, plumbing, and more.
Begin the pursuit of owning your dream pool by contacting reputable pool providers and receiving expert guidance.
---